Electro-deposited Copper Foil
Electro-deposited Copper Foil
We have a variety of electrodeposited copper foil products that are used for rigid, rigid-flex, flexible, high density, fine-line applications. Foil thickness ranging from 9µm (Qoz.) to 35µm (1oz.) are available that conform to the latest version of IPC-4562A.
ED Product Lineup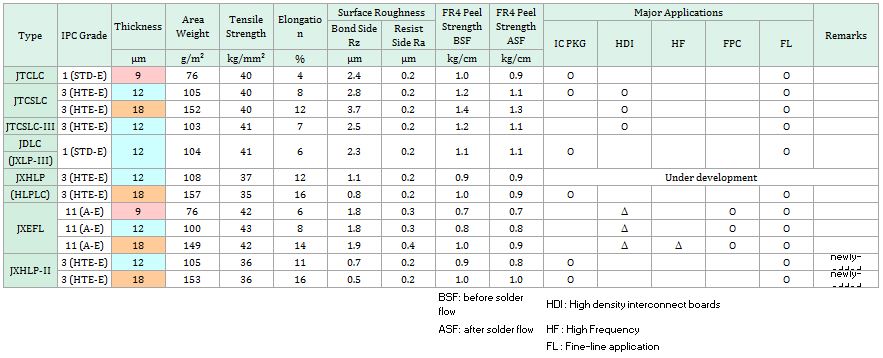 Low Profile Electrodeposited Copper Foils
JTCLC / JTCSLC (JXLP-I / JXLP-II)
Grade 1 and Grade 3 Copper foil for fine line patterning.
An etchability improved type of foil from JX-NMMC, bearing the following features:
1. Finer nodules: Finer etchability by less roughness
2. Larger surface area: Comparable board properties to conventional foil (JTCS)
3. Arsenic-free: Environmental-friendly

JDLC (JXLP-III)
Grade 1 STD Copper foil best suited for fine line application with excellent chemical resistance.
Similar with JTCLC/JTCSLC, JDLC is also an etchability-improved type of foil from JX-NMMC.
It is best suitable for fine line application where peel reliability is strictly required.
HLPLC (JXHLP-I) / JXHLP-II
Double-side flat foil with fine and ultra-fine nodulation applicable to applications where finer lines are required.
The JXHLP-II is also Arsenic-free (environment friendly) with ultra low transmission loss.
Shows an extreme level of flatness due to the both sides flatness of base foil and finer and more uniform nodular treatment.
A combination of both-side flat base foil and fine nodular treatment enables excellent performance in high frequency transmission properties.
JXEFL
JX's Electrodeposited Copper Foil for FLex PCB.
Apply JX's RA copper foil technology to ED copper foil.
Annealable base foil + fine nodule reverse treatment.
Has peel strength same as JX RA "BHY" which is the standard foil for FPC.
Although RA foils are known to provide optimum flexible performance, JXEFL copper foil has sufficient bendability for flexible applications, reasonable in cost and sufficient bonded strength.
Arsenic-free.